City Access New York promotes lifelong access to educational, vocational and cultural programs for New Yorkers of all abilities. We are a 501(c)(3) non-profit organization that identifies barriers to participation in schools and in the community and adapts the content and delivery of programs to the diverse needs of people with disabilities.
---
Everyone here at City Access New York would like to formally thank all of the essential workers who continue to work tirelessly to keep us safe. Stay safe and wear a mask!Posted by City Access New York on Wednesday, July 8, 2020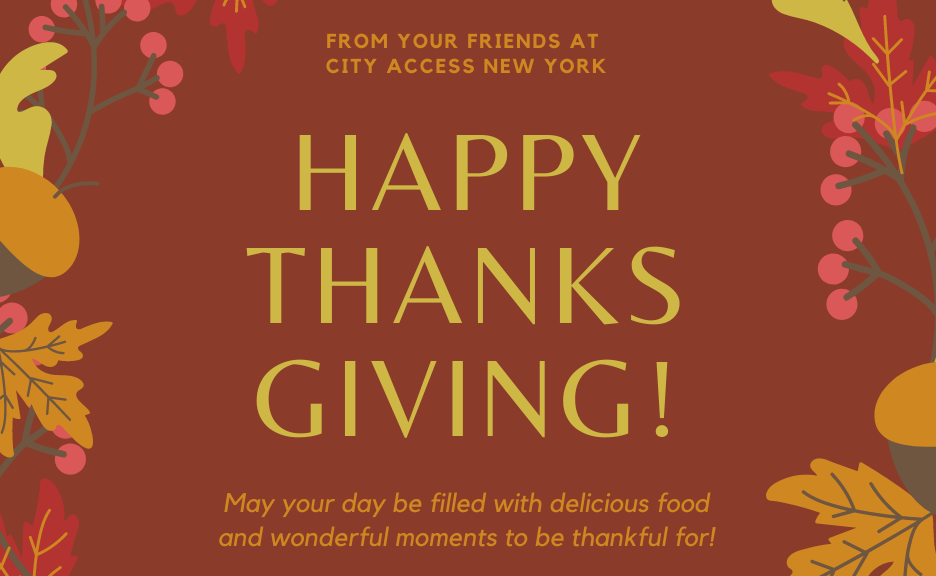 Tuesday, December 1st, is "Giving Tuesday", a global day of giving around the world where businesses and philanthropists come together to support non-profit organizations and the people they serve through their generosity.
Because of these challenging and unprecedented times, City Access New York's fundraising efforts were put on hold, including the Gala, their major fundraising event of the year. To compensate for this loss of revenue, we are asking you to PLEASE consider making a donation to help fund the following:
● Purchase the necessary Personal Protection Equipment (PPE) to keep our DSPs and participants safe and protected
● Provide desperately needed respite trips for the participants and their families which is critical during these difficult times 
● Purchase technology items such as laptops, i-pads and software for remote lesson plans for individuals at home that cannot afford them
● Purchase needed adaptive braille equipment for our visually impaired individuals to work remotely at home to become more independent
With major budget cuts to our programs, your help and support is crucial, so please contribute whatever you can. Any amount can make a difference in the lives of so many individuals with developmental disabilities and the visually impaired.

100% of your donation is tax deductible
For more information please call 718-285-6548 or email Lisa Purrone at lpurrone@cityaccessny.org
________________________________________________________________________________________________
Safety & Reopening Information
City Access @home
City Access @home initiative allows our staff to be able to continue to provide Day Habilitation services remotely. Please click on the link below to view a valuable list of resources.
City Access @home Resource Page for Families, Staff and Participants
---
CANY Newsletter | Fall 2020 |
We invite you to read our Fall 2020 Newsletter to learn about the work we are doing and we look forward to providing our programs and services once again.